Scrollino, a modern book revolution by edition lidu
PRESS RELEASE
1st September 2016 / For International Release


Scrollino is the new original book form and editorial concept offering a playful experience to all book lovers. You just need your regular pencil, to scroll down the Scrollino, to read, to draw or write and to scroll it up again. Scrollino was sucessfully pre-launched in June 2016 during the 1 months exhibition Scrollino by edition lidu at le lieu unique in Nantes (France). The Scrollino inventors and edition lidu´s founders Ludmila & Sylvain Favardin set out to the Scrollino International Launch Tour this September. They will travel many places to present the incredible possibilities of Scrollino for creative publishing, book festivals, art and design exhibitions, workshops, live printed events and so much more.

"A big crowd showed during the Scrollino exhibition opening party at le lieu unique. Everyone was excited, people mingled, scrolled up and down and wanted to buy them already. We also experienced a great feedback and support from from exhibited artists and people who surround us and who regularly follow the development of Scrollino. And this was a big motivation for us to carry on with this project." says Ludmila Favardin.
Created by artists and edition lidu's founders Ludmila & Sylvain Favardin in 2016, Scrollino follows edition lidu´s previous experimental project Pocket Comic Books (concept also created by Favardin and published in 2014), using thermal printing of POS printers, originally used in cash registers, to publish beautiful black and white illustrated books and comics on few meters long continuous paper strip.
Scrollino takes this concept step further and gives even more playful experience to readers, designers, artists and all book lovers. Nicely designed Scrollino book box cover has the basic features, almost as a classic book, however it hides a few metres long rolled up piece of paper with an illustrated story, a comics, a children book, a notebook or whatever your hearts desires. And to make it even more fun, you just need your regular pencil, to scroll down the Scrollino, to read, to make the image move and to scroll it up again.
Scrollino is an exciting journey of reasearch, design and experimentation with paper and printing techniques, resulting in an unexpected yet fully user friendly mixture of conceptual art, literature and book design. Scrollino brings a challange not only to its users, but also to writers, graphic designers and artists to create new content in a completely unconventional way.
And how it all started? With experiments.
"In 2013 I started working on an online POS system for our pop up bookshops during exhibitions. I tested the new software, that I have created and I printed receipts with an image of our newest books as a publicity. When Ludmila saw the receipt and the nice printed result we can get, she asked me to print the images from a comic book we were going to publish at that time. The result was so nice, it did kind of push us to go forward" says Sylvain Favardin.
The idea of printing long comic books with illustrations came quickly into mind. Favardin investigated all possibilities that thermal POS printers can offer, developed a special software for printing extremely long layouts with images (not only texts) and came up with many creative ideas both editorial and conceptual. In 2016 they decided to redesign the printed object and as a result of new experiments, they have created the Scrollino.
"Nowadays, we publish colorful Scrollino books and organize Scrollino workshops for both creatives and genaral public. We have also lot of fun while we create paper installations, exhibitions, art battles and interactive live events with beautiful printed results tailored for various clients, galleries and organizations. With Scrollino we showed that it is still possible to create a unique new art medium, a form and concept that awakes the creativity of its users, only with the help of simple and eco friendly things, as paper and pencil." concludes Ludmila Favardin.

About edition lidu
The international art books publisher edition lidu was established by Ludmila & Sylvain Favardin in 2011 with the desire to create and publish art books giving a unique experience to young and adult readers. edition lidu collaborates with authors and artists from different countries and cultural backgrounds and offers picture books in English, French, Spanish and other languages. Thanks to innovative thinking, edition lidu brings original book concepts and creates new dialogues between artists, publishers, galleries and the wider public through exhibitions, workshops, readings and initiation of book oriented art competitions. Scrollino is a project of edition lidu, and has been invented and designed by Ludmila and Sylvain Favardin in 2016.
You can use these hi-res images: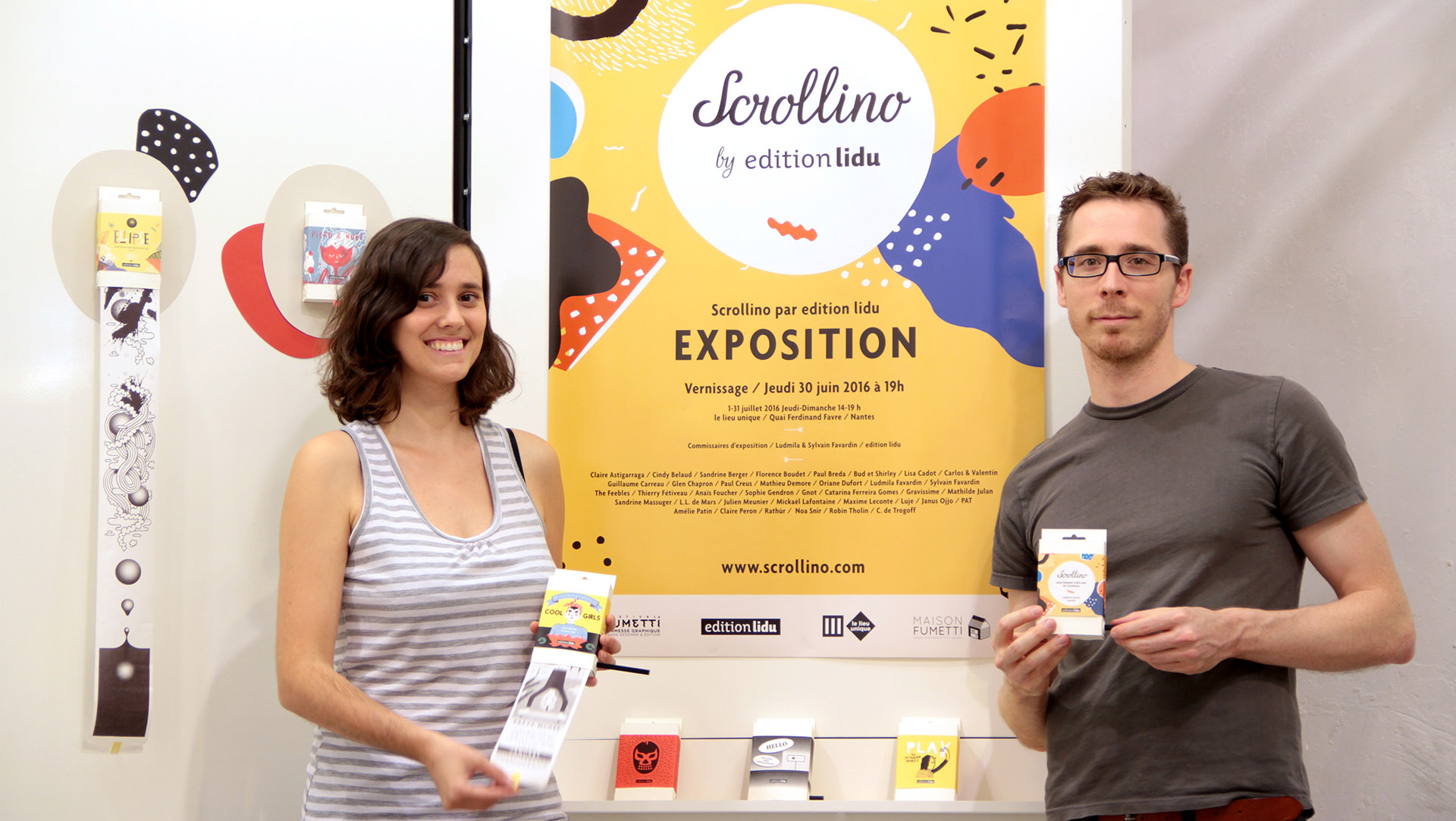 Ludmila and Sylvain Favardin at the exhibition Scrollino by edition lidu at le lieu unique, photo credits edition lidu, 2016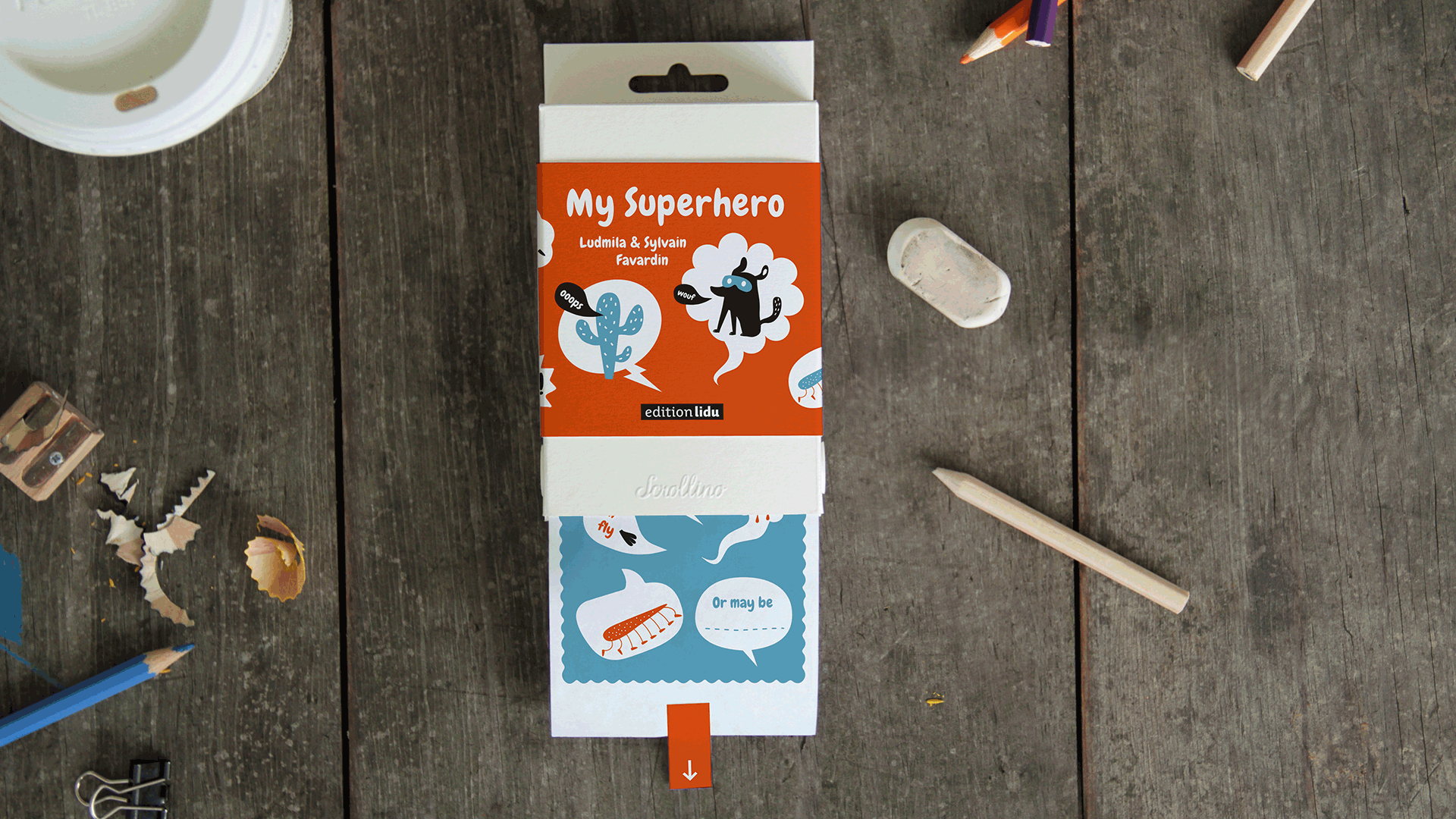 First Scrollino ever published in color, created by Ludmila and Sylvain Favardin, photo credits edition lidu, 2016
If you need more images to better illustrate your article, feel free to use the images on following links, with its credits:
http://www.editionlidu.com/Scrollino-International-Launch-Tour-2016-2017.html
http://www.editionlidu.com/Scrollino-at-the-Brussels-Comic-Strip-Festival-2016.html
http://www.editionlidu.com/Scrollino-by-edition-lidu-Opening-Party-in-Photos.html
If not mentioned otherwise, please credit the photos as followed: Scrollino, edition lidu, 2016
Ludmila and Sylvain Favardin are available for interviews at:
press@editionlidu.com
Please, if you print an article or publish a blog post, send us a link by email or a printed copy to our archive:edition lidu, Sylvain Favardin, 36 BD Joliot Curie, 44 200 Nantes, FRANCE
Thank you in advance!


Scrollino concept © 2014, 2016 edition lidu, Ludmila & Sylvain Favardin.
Scrollino Registered Trade Mark and Design. All Rights Reserved