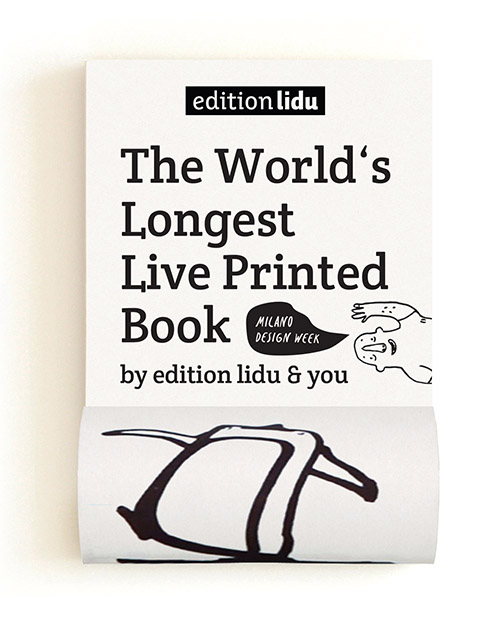 The Worlds Longest Live Printed Book
Product Code:
12345877
Availability:
Pre-Order
The Worlds Longest Live Printed Book
THE WORLD'S LIVE PRINTED BOOK
By edition lidu and you


The World's Live Printed Book is an original concept created by Ludmila & Sylvain Favardin, artists and founders of EDITION LIDU! Ludmila & Sylvain had this crazy idea to create and print almost infinite books with a completely new technique. They started to experiment with POS printers, originally used for printing receipts at cash registers. Instead of printing receipts with prices, they investigated all posibilites that the Termography printer can offer. Many ideas came quickly into mind, one of them was to create a live event where the visitors will be the authors of the Longest Live Printed Book in the World. That is how it all started.
EDITION LIDU organized the first Workshop during Milan Design Week in April 2014. During 3 days of the exhibition and workshop, artists, designers, children and curious adults were drawing their illustrations to become part of the Longest Book.
The Book with over 150 illustrations was printed live on 13 April 2014 in Milan. The book was printed on one piece of paper and is 15 metres long. No ink was used to print this book, that makes this printeing proces very enviromentaly friendly.
View the photos from the Workshop and printing in Milan.
1st book of its kind
Black & White
Thermography printed on recycled paper
15 000 mm x 80 mm
Over 150 authors
Live printed and published in Milan by edition lidu
Unique THERMO BOOK CONCEPT™ was created by artists Ludmila & Sylvain Favardin specially for edition lidu.
All Rights Reserved © edition lidu, 2014
THERMO BOOK CONCEPT™ is a copyrighted book concept and may not be copied and reproduced.
Write a review
Note:

HTML is not translated!