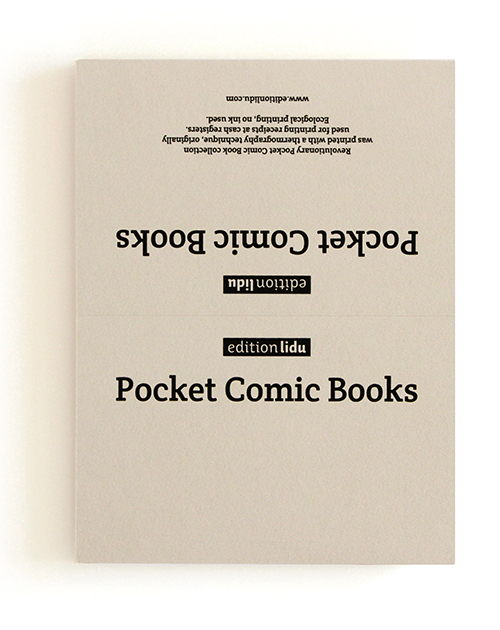 Pocket Comic Books Collection / Box 30 pcs
Product Code:
00001809
Availability:
Out Of Stock
144.00 €
Ex Tax: 144.00 €
Pocket Comic Books Collection / Box 30 pcs
POCKET COMIC BOOKS COLLECTION VOL. 1
Box of 30 pcs, edition lidu & Collective of authors



EDITION LIDU brings unique and revolutionary concept of black and white Pocket Comic Books. Comics strips are printed with a Thermography technique, originally used for printing receipts at cash registers, and rolled up by hand in Europe by edition lidu. Each comics has a different length, the longest measures 5,04 m when unrolled and offers a playful experience to readers and all comics lovers.
For the 1st Volume, EDITION LIDU selected 6 illustrators and artists (Joana Rosa Bragança, Sofia Drescher, Františka Lachmanová, Marike Le Roux, Tereza Vostradovská and Line Wasner), all awarded/nominated at ART BOOKS WANTED International Award 2012 and 2013.

The collection come in a beautiful cardboard BOX, designed for collectors, design shops, stationary stores and bookshops, that will enjoy to use the box as a display. The box includes 30 copies of Pocket comic books, 5 pieces of each of 6 different stories and visual styles.

Languages: ENGLISH, minimum or no text
Unique Thermo Book Concept™ and book design by Ludmila & Sylvain Favardin
Editorial direction by Ludmila & Sylvain Favardin
Additional graphic design by Nikola Klímová
Comics length: when unrolled varies from 1,76 to 5,04 m
Cover size of each comics: 80 x 115 mm
Each comics is packed separately
Ecological printing, no ink used for comics
Box printed by serigraphy
First edition within the Revolutionary Comic Book Collection
Published and printed by edition lidu, 2014
When ordering the complete collection of 30 copies, you will get the beautiful presentation box for free.

Pocket Comic Book Collection™ - vol. 1 BOX includes:
1 box/display - warm grey cardboard, 250 g
Seaside Bathers by Joana Rosa Bragança (Portugal) 1,76 m / 5 copies
Arana by Sofia Drescher (United Kingdom) 2,47 m / 5 copies
Sick Town by Františka Lachmanová (Czech Republic) 3,24 m / 5 copies
Blossom by Marike Le Roux (South Africa) 5,04 m / 5 copies
Soul by Tereza Vostradovská (Czech Republic) 2,55 m / 5 copies
Truth Investigating Animals by Line Wasner (Germany) 4,67 m / 5 copies

All Rights Reserved © edition lidu, 2014
THERMO BOOK CONCEPT™ is a copyrighted book concept and may not be copied and reproduced.
Write a review
Note:

HTML is not translated!