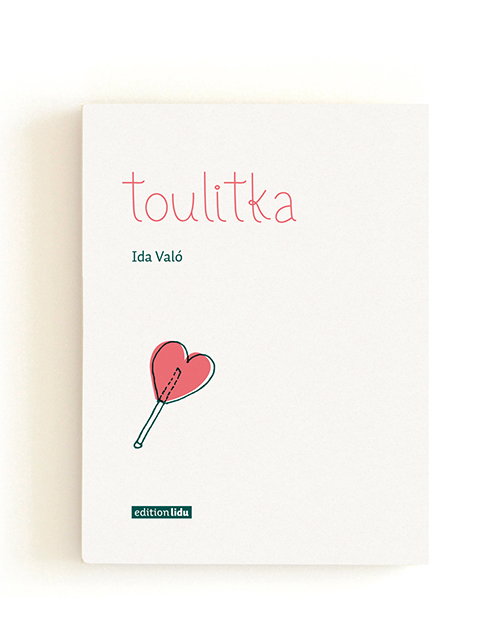 Toulitka / Limited Edition
Product Code:
00001205
Availability:
In Stock
Toulitka / Limited Edition
TOULITKA
Ida Való, Martina Hamouzová


Unique book of poetry by Ida Való. Toulitka contains 8 poems about love. Illustrations and original font Radost were created by Martina Hamouzová. The book is published and hand bound in limited edition of 20 numbered copies.
EDITION LIDU has launched the book on the ocassion of designSUPERMARKET festival in December 2013.

The graphic designer and illustrator Martina Hamouzová won the ART BOOKS WANTED International Award in 2012 for BEST AUTHOR'S BOOK Joy and Sorrow (Radost a Žalost). The book Joy and Sorrow was presented by EDITION LIDU and sold out during first events in 2012. So hurry up, to have your own numbered copy of Toulitka!

Languages: CZECH
Poems by Ida Való
Illustrations by Martina Hamouzová
Cover and book design by Ludmila Favardin
Graphic design by Nikola Klímová
32 pages, hand folded sheets, not bound
100 x 140 mm
Limited edition of 20 copies
Numbered
Published by edition lidu, 2013
Last copies available!
The book being a great success, edition lidu has published a 2nd offset printed edition with a different binding.
The second edition has about a 1 poem less, becouse of the binding/folding technique, and has 16 pages. The first edition had 32 pages (not bound) and printed only from 1 side of paper.
Ida Való, created poems published in Toulitka book already in 1983, when her daughter was born.
A selection of her love poems was published for the first time by EDITION LIDU in 2013 - 30 years after writting them at the first place. Second revised edition of Toulitka was published in early 2014.
Ida Való, wrote also many poems for children. EDITION LIDU prepares a new edition of Children poems and rhymes with Ida.
In the book Toulitka, the original handwritten font Radost was used. The font was created by Martina Hamouzová, especially for her book Joy and Sorrow.
Nikola Klímová, author of the graphic desin and layout, is actually studying Typography at UMPRUM in Prague. Nikola was also offered a creative Internship at EDITION LIDU´s studio in 2013 and untill now, she is a member of the creative team.
The cover of the book was created by Ludmila Favardin using the illustration by Martina Hamouzová. Ludmila Favardin was also the lead designer and editor of the book. Ludmila Favardin is an artist, curator and author of children books. With her husband Sylvain Favardin, also an artist, she founded EDITION LIDU in 2011.
Write a review
Note:

HTML is not translated!