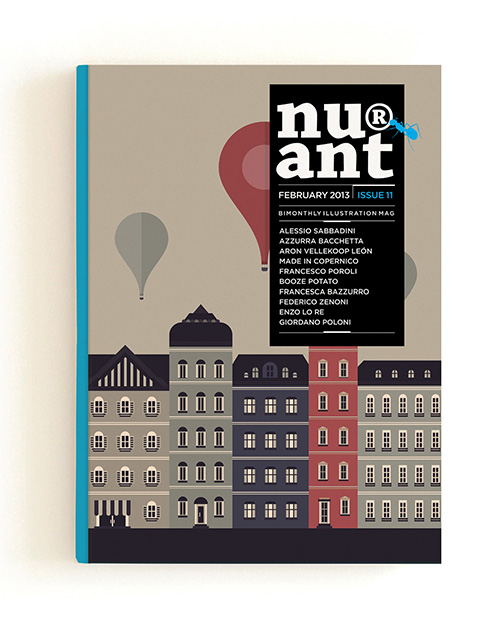 NURANT Mag / Issue 11
Product Code:
51110613-0C
Availability:
Out Of Stock
NURANT Mag / Issue 11
NURANT / BIMOTHLY ILLUSTRATION MAG
Issue 11 / February 2013
You take delight not in a city's seven or seventy wonders, but in the answer it gives to a question of yours.
Italo Calvino / Marco Polo, Invisible cities

IN THIS ISSUE
Alessio Sabbadini
Azzurra Bacchetta
Aron Vellekoop León
Made in Copernico
Francesco Poroli
Booze Potato
Francesca Bazzurro
Federico Zenoni
Enzo Lo Re
Giordano Poloni

Billingual edition, with texts in ENGLISH and ITALIAN
94 full coloured pages, 210 x 297 mm
Softcover
Printed on Favini paper
Founders Sergio Caruso and Nicola Iannibello
Editorial by Federico Caruso
Art Direction & Graphic design Ventizeronove
Published by Nurant in Italy
Sergio Caruso, the co-founder of NURANT MAG was a member of the Jury of ART BOOKS WANTED International Award in 2013.

EDITION LIDU started a cooperation with NURANT Mag in June 2013.

The Nurant is not only a magazine, it has crossed the border of the printed page to create creative relationships, exhibitions and events.

Each issue of NURANT has an associated theme: a pretext to suggest images for illustrators and graphic designers, who develop their own ideas for the next issue. Among the authors already hosted are Riccardo Guasco (Italy), Jérémie Decalf (France), Beni Chu (Taiwan), Juan Molinet (Argentina) and many others.
The first issue of NURANT was published in April 2011.
Even if Nurant is a bimonthly magazine, the mag is not actually released every 2 months.
NURANT cooperates with Favini, a producer of quality art and graphic papers in Italy. Nurant Mags are printed on Favini Crush papers, that has the FSC - The mark of responsible forestry.

Write a review
Note:

HTML is not translated!