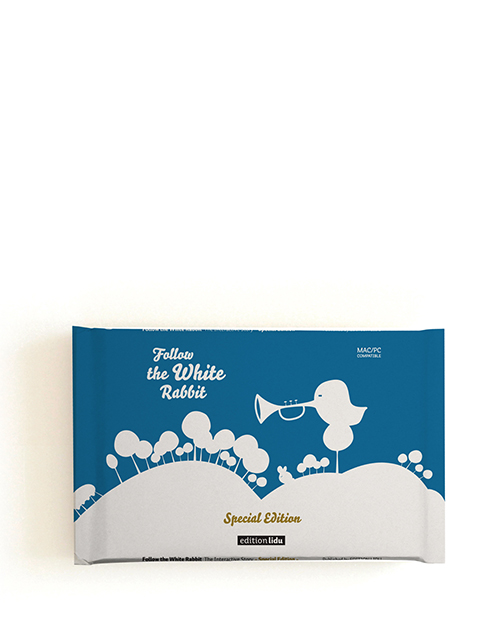 Follow the White Rabbit / The Interactive Story on DVD
Product Code:
16001212
Availability:
Out Of Stock
Follow the White Rabbit / The Interactive Story on DVD
FOLLOW THE WHITE RABBIT
The Interactive Story
Special Edition on DVD for MAC & PC
Ludmila & Sylvain Favardin


As in the Lewis Carroll's icon book, follow the White Rabbit and it will take you on an adventure through an imaginary universe. Through chapters you will discover a treasure hunt. You are going to see objects and characters, who can open secret interludes and give you the keys to the following chapters. The possibility of your interaction leads to a unique experience every time you play. A great thing to discover for any age!

Follow the White Rabbit is the AWARD WINNING interdisciplinary project moving the boundary of an art concept, experimental video game and literature. Consists of thousands of interactive illustrations. Artists Ludmila & Sylvain Favardin refer to the character White Rabbit from Lewis Carroll's book Alice's Adventures Under Ground, later known as Alice in Wonderland.
Original version of the Interactive Story on DVD
Original Paper Jacket 170 x 130 mm, 66.9 x 51.2 in
15 Chapters + 14 Interludes (mini-games) to unlock
More than 100 of characters to discover
Thousands of interactive animations
Story languages: EN / FR / ES / CZ / DE
Goodies, surprises and other secrets
New experience every time!
Concept, Story & Artwork: Ludmila & Sylvain Favardin
Published by EDITION LIDU
Minimum System Requirements:
MAC OSX:
- Intel Core™ Duo 1.33GHz or faster processor
- Mac OS X v10.6 or v10.7
- 256MB of RAM;
- 128MB of graphics memory
WINDOWS:
- 2.33GHz or faster x86-compatible processor, or Intel® Atom™ 1.6GHz or faster for netbooks
- Microsoft® Windows® XP, Windows® 2003, Windows® 2008, Windows Vista®, Windows® 7
- 128MB of RAM (1GB of RAM recommended for netbooks); 128MB of graphics memory
Follow the White Rabbit Exhibitions & Screenings all over the world
MUSEUM KAMPA, Prague
September 2012
Art Books festival LiterARTura, Prague
1-31 March 2012
International Film Festival Rotterdam
26 January - 6 February 2011
ART ROTTERDAM, Attraction of the opposites
February 2011
Video Art Festival Miden, Kalamata, Greece
8, 9 and 10 July 2010
ArcheTime, EFA - The Elizabeth Foundation for the Arts, New York, USA
June 2010
MG - MORAVIAN GALLERY, Prazak Palace, Brno, Czech republic
1-4 June 2010
CROSSTALK video art festival, Budapest, Hungary
1-6 June 2010
Keio Media Design School, Osaka, Japan
June 2010
Isle of Wight Festival, Seaclose Park, Newport, UK
June 2010
ART BY CHANCE, Ultra short film festival, worldwide
May - June 2010
Cinebarre, screenings at movie theatres Asheville, Denver, Charleston, Seattle and Salem, USA
May and June 2010
HAI GALLERY, Breda, Netherlands
7 May - 4 June 2010
Tomtom Sokak Istanbul, Turkey
May 2010
Cinema Speakeasy, Screening Echo Park Film Center, Los Angeles
May 2010
Freshtival, Istanbul, Turkey
29 May 2010
3rd Annual CGTExpo - Largest Expo on Animation, Nehru Center Worli, Mumbai, India
29 - 30 May
Art By Chance Screening & Live Performances, NY Angels And Kings, USA
23 May 2010
BOOK WORLD, Book fair and Literary festival, Prague, Czech republic
13 - 16 May 2010
Selected A, Book feature and exhibition, Consell de Cent, Barcelona, Spain
12 - 13 March 2010
NEW WAYS, Campaign by O2 Telefonica, Germany
February - March 2010
Fresh, Futurista Universum, Prague, Czech republic
December 2009
Designblok'09, Prague Design Days, Czech republic
16-11 Octobre 2009
Write a review
Note:

HTML is not translated!