Lasse Wandschneider grew up in Lübeck. His art education started in Netherlands at AKV St. Joost in Breda. Lasse then decided to continue his studies at the UdK (Universität der Künste) in Berlin, where he attended the illustration class of Henning Wagenbreth and graduated in 2014. During his exchange semester at the UMPRUM in Prague, Lasse was offered an internship at EDITION LIDU´s creative space.
Lasse excels in the simplicity and expressiveness of his illustration work. His drawings and illustrations are at the same time, very naive, yet incredibly clever. Lasse use both, the classical drawing and hand printing techniques with the possibilities of computer programs. He designed and self published several author's books, among his best belongs the screen printed treasure Allem Anschein - a story about appearances, disappearances and misapperances. Lasse contributes to anthologies such as Stripburger and Happiness Comix and do cooperations with other illustrators. Recently he published a comic with Leipzig-based mini-comic project Tiny Masters and took part in a group exhibition at Kunstquartier Bethanien in Berlin.
As part of de.sign lectures in Prague, Lasse prepared a brand new illustration series where he reinvented and reinterpreted his previous works. You can enjoy his new works at the great exhibition space in the Goethe Institute in Prague from 21st April till 15th May 2015. Join us for Lasse´s lecture in Prague full of amazing, witty images. During th electure you can also buy books and prints directly from the author.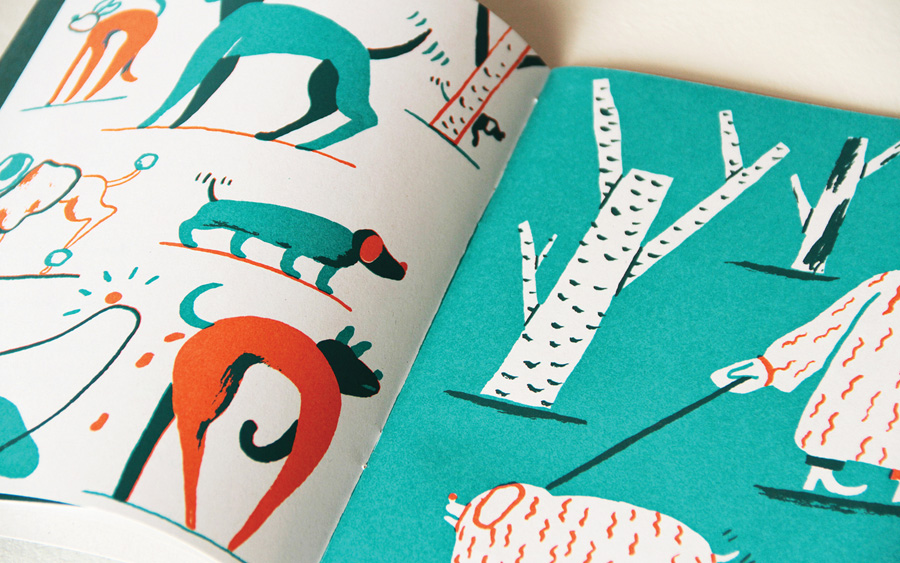 Illustration from the book Allem Anschein
de.sign lecture series / Lasse Wandschneider
LECTURE IN PRAGUE + OPENING EXHIBITION
21st April at 7:00pm at Goethe Institut Prague
EXHIBITION
"Exceptional views of a park-like Environment."
From 21st April till 15th May 2015
Moday to Friday 9am–6pm
Goethe-Institut
Masarykovo nábř. 32, 110 00 Prague, Czech Republic
de.sign lecture series organized by
Goethe Institut Prague
Instituto Cervantes
Embassy of the Kingdom of the Netherlands
Embassy of the State of Israel
Speakers 2015 selected by Ludmila Favardin (EDITION LIDU)
Exhibition curated by Ludmila Favardin
Prague Lecture in GERMAN with CZECH interpretation
Read more about de.sign lecture series here
Lasse Wandschneider in Pilsen
Wednesday, April 22 at 1:30pm
Ladislav Sutnar Faculty of Design and Art in Pilsen
Univerzitní 28, 30614 Plzen, Czech Republic
Lecture in ENGLISH
Lasse Wandschneider in Ústí nad Labem
Thursday, 23th April 2015 at 3:00pm
Armaturka
Jateční 1588/49, 40001 Ústí nad Labem
Lecture in ENGLISH
FREE ENTRANCE to all lectures!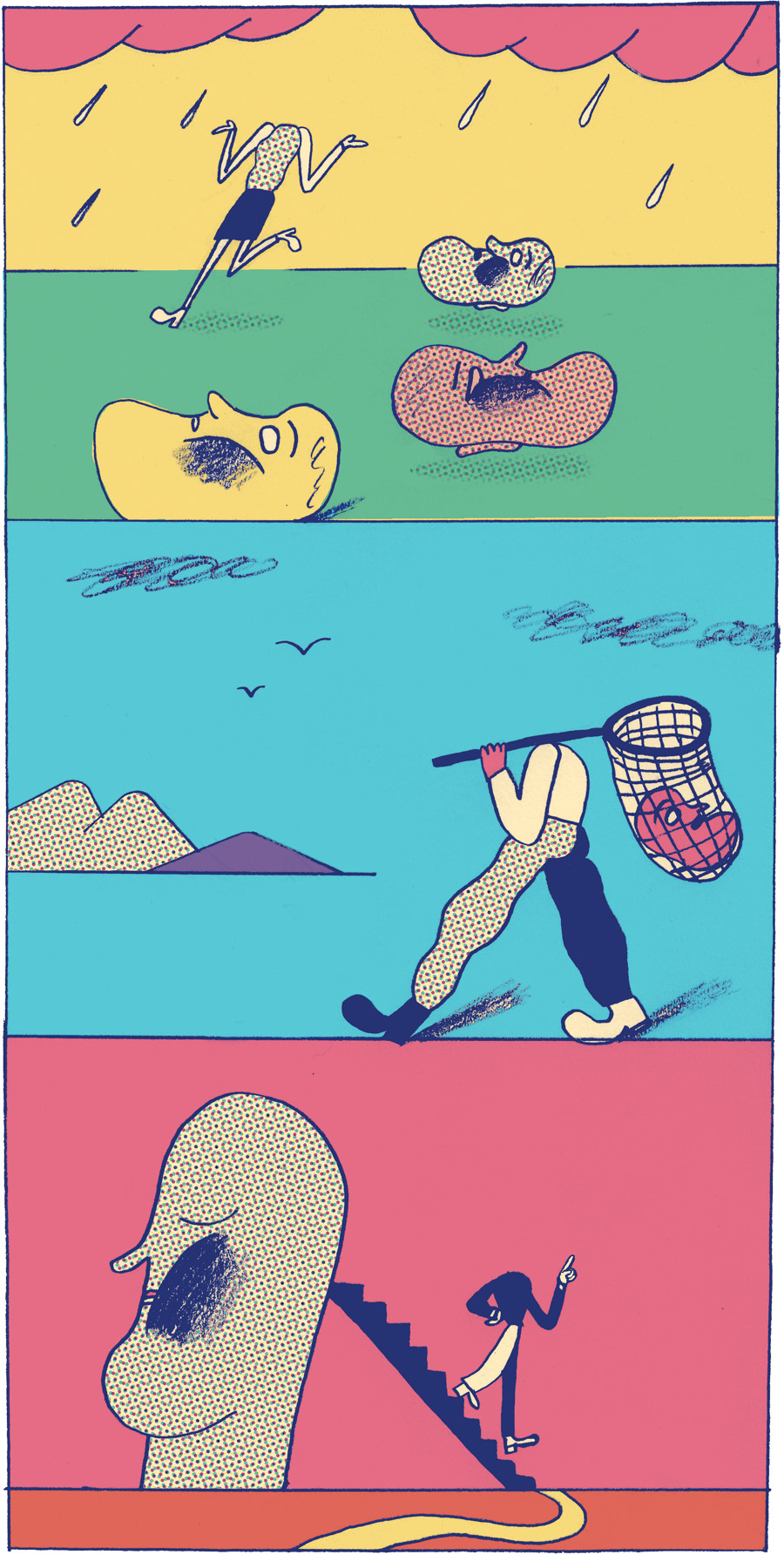 Illustration by Lasse Wandschneider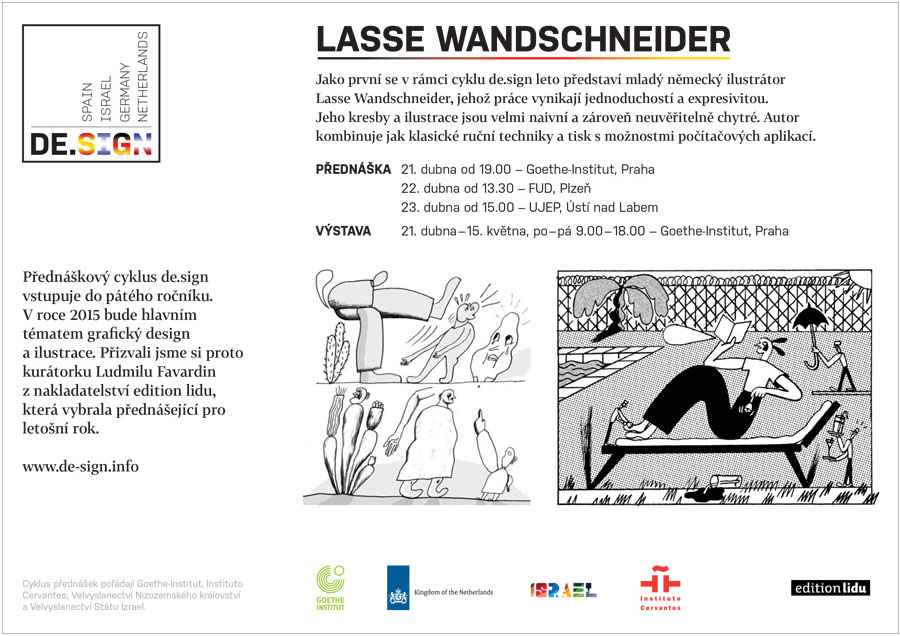 Read more about de.sign lecture series here