There is a lot to looking forward! Come to join us at FRIGORIFERI MILANESI in Milan and enjoy a pleasant weekend full of beautiful and unique books sold directly by artists and publishers.
MICRO Festival of independent publishing
11-13 April 2014
Milan Design Week
MICRO Festival
c/o FRIGORIFERI MILANESI
Via G. B. Piranesi 10 20137, Milan
MICRO Opening hours
Friday 11th: 3:00 pm - 8:00 pm
Saturday 12th: 11:00 am - 8:00 pm
Sunday 13th: 11:00 am - 8:00 pm
Selected publishers
We are happy to announce the selection of Publishers for MILAN DESIGN WEEK 2014 at MICRo Festival:
Aaalphabet
Aurora Fotografi
BOLO Paper
Cesura
CORPOC
Cranico
Diorama Magazine
Do The Print
Edition Lidu
Edizioni Precarie
Lowercase
Paragraph
Print About Me
Rumore Nero
Semiserie&Sons
Shelf Editions
SSTARS
Teatro Balocco
Terracava
More about Micro Festival here
New Book Launch by edition lidu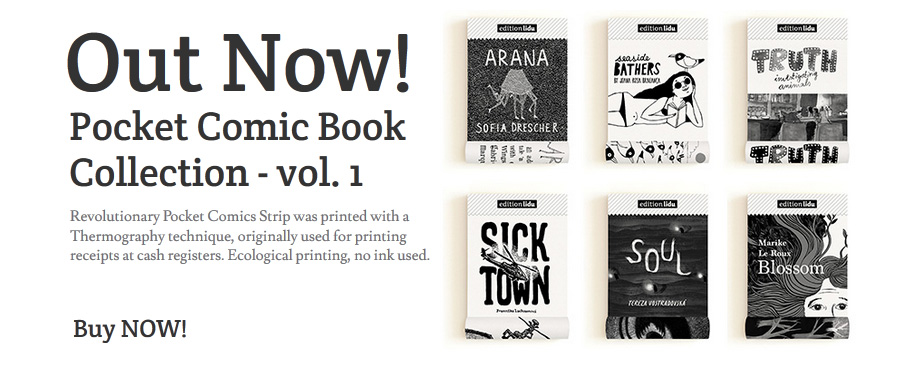 On Friday 11th April, edition lidu will launch in the world premiere a Revolutionary editorial project: Pocket Comic Book Collection - Vol. 1
We use ecological Thermography technique in a way that was never used before for printing books! We will reveal more about our revolutionary technique during the event! So come to see it!
MICRO Festival of independent publishing
11-13 April 2014
Milan Design Week
MICRO Festival
c/o FRIGORIFERI MILANESI
Via G. B. Piranesi 10 20137, Milan
Read more about Micro Festival here
During Milan Design Week, edition lidu will also showcase the ART BOOKS WANTED International Award Exhibition and prepared a unique workshop The World's Longest Live Printed Book
Read more about the ABW Award exhibition
Read more about the workshop