Considering the high level of submitted projects the Art direction of EDITION LIDU has selected 117 exciting projects to be presented internationally via the official ART BOOKS WANTED website.
The 117 selected projects was presented to the International Jury on June 8th 2013 in the B1 - Centre for contemporary design in Prague. The Jury has selected the Winner, awarded best projects in 11 categories and gave several Honorable mentions.

The Winner of ART BOOKS WANTED International Award 2013 and Awarded authors will be announced on the 18th of June 2013 during the Press Conference at B1 - Centre for contemporary design.
We would like to thank our MEDIA PARTNERS and INSTITUTIONS which are supporting the ART BOOKS WANTED project.
The following are Projects Selected for the 1st round
Crane Memoirs / Elif Akcali (Turkey/USA)
The Coral Charmer / Daniela Almansi, Chiara Masiero Sgrinzatto (Italy)
Botanicula / Amanita Design (Czech Republic)
Machinarium / Amanita Design (Czech Republic)
Found photos in Detroit / Arianna Arcara & Luca Santese (Italy)
Aurora #1 Zine: Leaves / Aurora - Alessandra Tecla Gerevini, Ilaria Zennaro (Italy)
Slečny + pinkabinet / Barbora Baronová, Dita Pepe (Czech Republic)
The feminine circle in nature / Rufina Bazlova (Belarus/Czech Republic)
The All Day Everyday Project / Hannes Beer (Germany)
Design for the Floor of Gaudí's Sagrada Familia / Pablo Berger (Switzerland/Mexico)
Ende von Etwas / Iveta Bláhová (Czech Republic)
Indigo Child / Petra Bláhová (UK)
ODISSEA LIBRO XII Le sirene / Ilaria Bochicchio (Italy)
Heavens + Humans / Peter Calderwood & Lena Gustafson (USA)
Samozvání / Petr Váně & Michaela Casková (Czech Republic)
ALANO / Andrea Cavallini & Elisa Sabatinelli (Italy)
Livre-jardin / Julie Chane-Hive (France)
Big World through Small Eyes / Gloria Chao (China)
La descente / Benjamin Courtault (France)
Rosemary & the Pig / Dea Curic (Italy)
Where is my cat? / Ilaria Demonti (Italy)
Arana / Sofia Drescher (UK)
How Vasyl Defeated a Dragon / Katsiaryna Dubovik (Belarus)
Latvian Folk Tales / Katsiaryna Dubovik (Belarus)
Inside the landscape / Maddalena Fanconi (Italy)
Marzenie | Dream / Monika Fejes (Hungary)
Ako zajkovia mrkvu hladali / Zuzana Galova (Slovakia)
Key Words / Chrystian Gluszek (Poland)
The favourites / Pauline Gorelov & Delphine De Ridder (Belgium)
Cirkus / Magdalena Gurská (Czech Republic)
Gesundheit! / Matt Hammill & Revolutionary Concepts (Canada)
Mitschaugelegenheit Helsinki / Isa Hartikainen, Carina Klein (Germany)
Beth de Beer se slaaptydstorie / Hanrie van Heerden & Bibi Slippers (South Africa)
Cut Off Places / Anja Høvik Strømsted (Norway)
Gnomon / Beth Howe (USA/Canada)
Don Ton / Lukáš Hutter (Czech Republic)
Patterns Transformation / Helena Jakoubě (Czech Republic)
Book of fools / Jindřich Janíček (Czech Republic)
Slovník anonymity / Zuzana Janečková (Czech Republic)
O Bylinke a korienku / Jakub Jenco (Slovakia)
Svítící pohádky (Shining badtime stories) / Ondřej Jiráska (Czech Republic)
Cesta za tajemný hvozd / Magda Kadlecová & Paul Stewart (Czech Republic)
Exchange No. 044640 / Sofya Karash (USA)
Things/Вещи/Objects / Sofya Karash (USA)
The night poetry class in room 1001 / Keren Katz (USA)
There & Back Again / Jan Khur (Czech Republic)
City Acrobat / Yeni Kim (South Korea / UK)
Signs & Symbols / Vladimir Nabokov & Yeni Kim (South Korea / UK)
My Holiday Lonely Monsters / Nikola Klímová (Czech Republic)
Made by Rain / Aliki van der Kruijs (The Netherlands)
Shadow Atlas / Hora Krug - Strane Dizioni (Italy)
Chicken or Beef / Jeong Hwa Min (South Korea / Germany)
Project: Winnica (Vineyard) / Barbara Kubska (Poland)
Tremor Essentialis / Jan Kysela (Czech Republic)
Fred-Joseph-Platz 3 von frueher bis heute / Anne Lehner (Germany)
Blossom / Marike Le Roux (South Africa)
Virgin / Marike Le Roux (South Africa)
Magnus the Cat / Laura Little (Ireland)
Mou krajinou / Martin Novotný (Czech Republic)
Two / Anna Martinovská (Czech Republic)
Pohádky pro nehodné děti / Alžběta Křečková (Czech Republic)
Porno subito / Fulvia Monguzzi (Italy)
Shadows / Virginia Mori, Virgilio Villoresi (Italy)
Hitotoki no koto / Ayano Mouri (Japan/Germany)
Dialogue in the forest / Ayano Mouri (Japan/Germany)
Cannes 08. 09 / Elsa Mroziewicz (France)
Missing / Pauline Muyldermans (Belgium)
Borsch / Emiliano Biondelli & Valentina Venturi (Italy)
The little book of Alice / Inge Nouws (Spain)
I Wouldn't Wish War on My Worst Enemy / Jim Lommasson (USA)
What Are We Looking For? / Eva Odehnalova (Czech Republic)
The Path to Modernity: Mexican Modern Painting / Danne Ojeda - Singapore Art Museum (Singapore/The Netherlands)
Terra Incognita / Meri Page (USA)
Schein / Kirsten Piepenbring (Germany)
I wish I was / Caterina Pinto, Lorenza Negri (Italy)
The amazing PLANET that is in the SOLAR SYSTEM / Francesca Presentini (Italy)
Enchiridion / R. Prost (USA)
My Dear Omi! / Maruša Račič (Slovenia)
Gdy marszalek jest na scianie wtedy dobre jest sniadanie. / Mateusz Rafalski (Poland)
Zin 2012 / Martin Raudenský & Students (Czech Republic)
O vsi Lelekovice - sešit 1. / Michal Reichstater, Dávid Kurňavka (Czech Republic)
Una sola nuvola / Judy Rhum (Italy)
Partir é Deixar, Deixar é Partir / Bárbara Rocha (Portugal)
PLIM / Joana Rosa Bragança (Portugal)
Jan Ámos Komenský v obrazech / Barbora Šalamounová (Czech Republic)
Animal in 60 seconds / Nicola Scanera (Italy)
Chlapec a duha / Milica a Broňa Schragge (Slovakia)
Blessed / Matthew Scott Gualco (USA)
Neúplná kniha / Lenka Ševčíková (Luxembourg)
Elevages Abattages Distributions / Noémie Sicard (France)
Histoires de Fermes / Noémie Sicard (France)
21 idées / Jan Šimsa (Czech Republic)
Atlas podkožních zážitků / Adéla Součková & Nikola Čulík (Czech Republic)
Vmesnost - intermediation / Tanja Špenko, Andrej Medved (Slovenia)
Distant Place / Sputnik Photos (Poland)
Louže / Jakub Spurný, Vladislav Vančura (Czech Republic)
Lume / State of Play Games (UK)
Signore e Signori... / Studio Arturo (Italy)
Superbrothers: Sword & Sworcery EP / Superbrothers (Canada)
If Little Red Riding Hood / Alice Tebaldi (Italy)
Che Faro Senza / Tomi Um - Strane Dizioni (Italy)
Tri-dé kniha / Robert Urban (Slovakia)
Comics about Pilsen / Studio of Comics & Illustration UUD Pilsen (Czech Republic)
HOMO urban / Imrich Veber (Czech Republic)
Recommend Mr Verbeek to your acquaintance / Thijs Verbeek (The Netherlands)
Google Carmina / Vidal & Groth (Germany)
Dies ist die Frage ob es sich ohne Fenster gut leben lasse. / Martina Walther (Switzerland)
Allem Anschein / Lasse Wandschneider (Germany)
Truth – investigating animals / Line Wasner (Germany)
Tytus Czyżewski — chosen poems / Tytus Czyżewski & Katarzyna Wolny (Poland)
Life according to an architect / Katarzyna Wolny (Poland)
Visits into the world down under. / Magdalena Wolf (Germany)
The day I don't exist / Yozhi Yazooma (Czech Republic)
OPEN / Natalie Sarraute & Dasha Zaichenko (Belarus/Austria)
FAQ – Frequently Asked Questions / Barbara Hahn, Christine Zimmermann (Switzerland)
Woman, Life, Iranian People in Pictures / Hamideh Zolfaghari (Iran)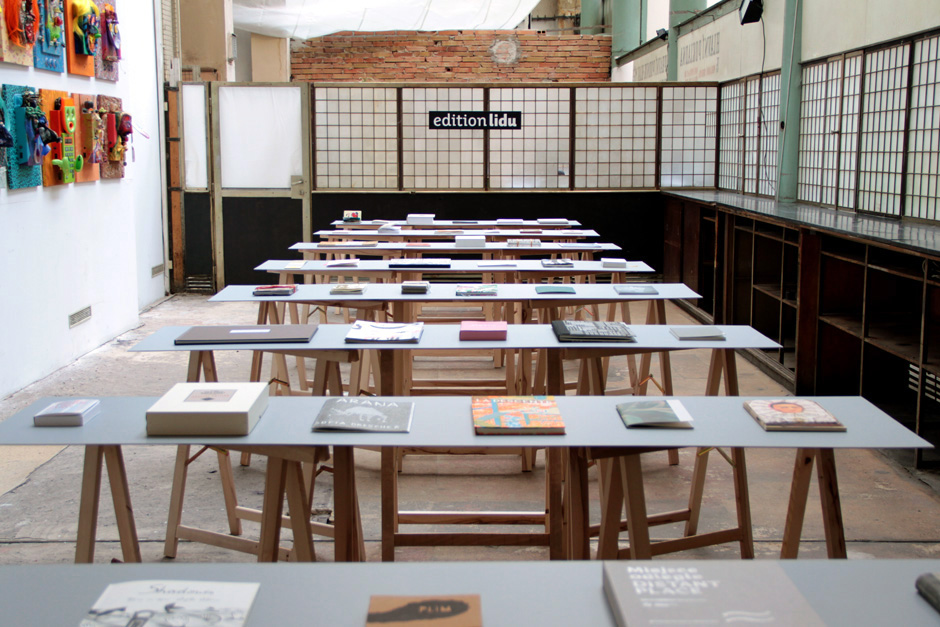 ART BOOKS WANTED Exhibition
The ART BOOKS WANTED 2013 opening exhibition will take place on June 18th at 7 pm.
Exhibition from June 18th until July 6th 2013
Tuesday – Friday 10 am – 7 pm
Saturday 11 am – 5 pm
Free entrance
B1 – Centre for contemporary design
Bubenska 1
Prague 7 – Holesovice
CZECH REPUBLIC
View on Google Maps